#SEOCasestudy – How we increase Organic Search #traffic by 114.62% in Just one month
Today we present to you one of our biggest SEO success stories. Here is how we helped an Ebike (Electric Two wheeler) Company website in increasing Organic Search traffic by 114.62% in Just one month.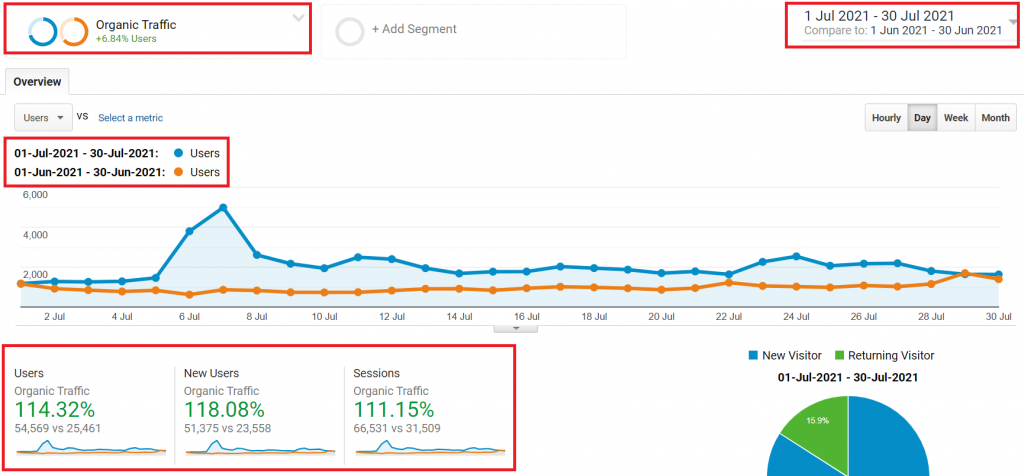 We have started this project on 1 June 2021. The client already doing SEO with some other seo team but they just getting a consistent regular result, now they need some drastic growth with SEO, so from 1 June they have started work with me.
They Got New 29,108 New Organic Visitors in July month.
Traffic stats:
How did I get momentum quickly?
– Website Technical SEO Analysis ( Use – semrush, ahrefs & screaming frog )
– Find Technical Glitch & solved On the first week of start project
– Competitor Analysis ( Find their backlinks strategy & our other SEO team started work on High-Quality backlinks stuff )
Other Guys Start work on the below activity
– Stuffed keywords in a content (Old Blog Post)
– Screamed at google
– Cheaped out on content as much as possible
– Wrote thousands of words of aimless content (Started Published 1000+ word blog content as per proper keyword research)
– Stuffed keywords into Yoast (Added Target keywords in the old Blog Post)
– Focused on reverse NLP content structure with a defunct actuated googly timewarp
Some other Related activities perform by our Sr. SEO Guy
💪 SEO testing on building out pillar pages
💪 CWV optimization (Solved All old Errors)
💪 SEO testing on ATF content performance (For Increase User Behavior)
💪 Keyword diversification – extend query coverage (Used Long & LSK Keywords)
💪 Prevent cannibalization
💪 Links links links to internal pages (Created Diff Links for diversification – LL, Profile, Guest post, Blog, Articles, Doc, Image, Video, Forum)
💪 Social signals – (Legal From Diff IP Address)
💪 Build links from similar UGC content sites – (Outreach & Niche Edits)
Get in touch
Send us a message, we'd love to hear from you.